Private Sailing Charters
When you charter the Liberté, you pick the day, the time of day, the number of hours, who's onboard, the music, the food and what you'd like to drink from our bar (no b.y.o.b.). If it rains on the day of your parade, there's no charge on the boat or the bar. We will also make an effort to get your catering canceled if you won't be taking your party elsewhere. We can try to reschedule your sail or if you prefer, we will refund your deposit.
Each cruise is unique and we strive to make it just the event you envisioned, be it a lively cocktail party, a formal wedding or just a casual afternoon on the water.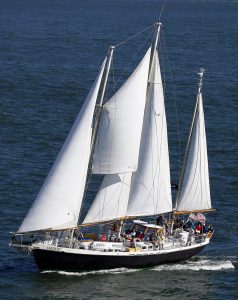 Themes
Birthdays, anniversaries, graduations, reunions and retirements are all great reasons for a grand event. Having it aboard the Liberté makes it even more special. Adding a theme can further enhance the experience and fun. After all, it is your party!
Music, food, beverages and attire can be blended to suit the mood. Consider a casual "steelbeach" party with reggae music and rum punches. A 1920's theme brings to mind snazzy clothes and jazz with cocktails and hors d'oeuvres. Of course, there's also the ever-popular pirate theme. If you can dream it, we can probably make it happen, for a party you and your guests will never forget. The Liberté has a stereo with a large c.d. collection of all genres of music, or feel free to bring along your iPod or your own c.d.'s.
Food is an important part of the planning. We offer a wonderful catering menu in Annapolis and work with some fine food purveyors in Cape Cod, serving everything from casual appetizers to full dinners. You may prefer to bring your own, use your own caterer or go potluck. Boxed or bagged lunches are a comfortable option as well. We have a full beverage bar onboard (no b.y.o.b.) and can work with your theme to expand the libation options.